BCMTMS: Board
Certified Medication
Therapy Management
Specialist
Home | BCMTMS: Board Certified Medication
Therapy Management Specialist
Exam Content & Pricing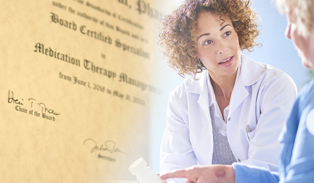 200 multiple-choice questions
Initial Certification: $450
Schedule your exam with one of Scantron's
1,350 testing centers worldwide
MTM certification is earned by
pharmacists
who have demonstrated a high level of proficiency in the core standards of medication therapy management. This credential is awarded through a thorough examination covering four
Defining Medication Therapy Management and Translating Medication Therapy Management into Practice
Medication Therapy Management Pharmacotherapy
Patient Care Advocacy in Medication Therapy Management
MTM Documentation and Billing
Why MTM certification is important


Professional Opportunities
MTM certification a professional distinction that the healthcare industry demands and employers and
consumers expect.

Career Advancement
MTM certification demonstrates knowledge, expertise and professional experience needed to serve patients in the emerging models of care and patients with complex health challenges.

Increased Credibility
MTM certification displays the competency to practice independently, promote quality and safety and protect the public.
Requirements for certification

LICENSURE
Maintain a current, valid pharmacist license.
EXPERIENCE
The candidate must complete two (2) years of practice experience, post-licensure, with experience in medication therapy in retail pharmacy, community pharmacy, or ambulatory care pharmacy. Experience can be waived if the applicant
successfully completes an NBMTM-approved training program in medication therapy management. Approved training programs are:
Power-Pak C.E.® Certificate Program in Medication Therapy Management. Read more.
APhA's Delivering Medication Therapy Management Services Certificate Training Program. Read more.
University of Southern California's Advanced Practice Pharmacist Certificate in Comprehensive
Medication Management (CMM).
University of Florida's graduate certificate in Comprehensive Medication Management (CMM).
University of Florida's Master's degree in Medication Therapy Management.
Residency in medication therapy management or ambulatory care pharmacy (PGY-1 or PGY-2)
How to get MTM certified

We recommend the following activities before you register for the exam:
Coronavirus Updates (COVID-19)
As we continue to observe this ever-evolving COVID-19 crisis, we want to make sure our candidates have access to a safe and secure environment to take the BCMTMS exam. As pharmacists, we are called to go above and beyond and do whatever it takes to fight this pandemic. We are aware that many pharmacists are busy working overtime or supporting staff shortages at this time. Therefore, the National Board of Medication Therapy Management has made two changes to support our candidates. First, all candidates will get an automatic 6 months extension. Also, all candidates will have the option use Mercer-Mettl's remote proctoring which will allow them to take the exam in their own computer. Candidates that decide to be proctored online via MercerMettl must contact us directly at contact@nbmtm.org for the transition. NBMTM will waive any transition fee.