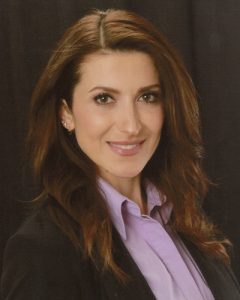 Honorary Member of the Board of Directors
Dr. Dareen A. Douchi, MAJ(R) arrived in the United States of America from Syria as a young bride in 1995. However, she had a dream to continue her education in Health Care and was determined to achieve that dream. She silently raised her two children as a single mother while on welfare and simultaneously obtained her Doctorate in Pharmacy in 2003 from Creighton University Medical Center in Omaha, NE.
Seven years post-graduation, she felt the urge to pay this great nation back. This great nation which helped her obtain her dream to become an independent and strong woman. She promptly joined the United States Army in 2009 where she served her country for 8 years. It was during these 8 years, while serving as a clinical pharmacist to the Army Worrier Transition Unit (WTU) Soldiers, that she developed a greater interest in Clinical Pharmacy practice focusing on Pain and Psychiatric medicine. Her passion to advance the practice of Pharmacy, via increasing patients' awareness and providing the proper education to those patients, has been one of her many driving forces in achieving successful strategies in reducing medication errors.
Along with her strong strategic pharmacy management experience, she has proven abilities to introduce cost-saving measures at large institutions while increasing quality and productivity standards and working effectively with all levels of personnel. A respected leader who served as an effective liaison on several local and national committees throughout the Department of Defense.
Dr. Douchi is a Nebraska licensed pharmacist with 14 years of wide variety of expertise in the field of Pharmacy. Disabled Veteran, MAJ(R) Douchi continues to be a strong advocate of the armed services and its mission. During her spare time, she enjoys horseback riding, gardening, cooking and spending time with family and friends at her new home in San Antonio, TX.